About Us
The Story So Far…
NODA Insurance delivers a wide range of quality insurance services designed for amateur theatre. Most notably we arrange the market leading Society Insurance policy.
We have worked with the National Operatic and Dramatic Association for more than 10 years, developing our experience in dealing with amateur theatre and enabling us to arrange specialist policies.
Our ethos is simple and based on the delivery of quality, tailored products and a commitment to provide you with exemplary customer service.
Finding suitable insurance for amateur dramatics can be difficult enough so it is good to know that you can turn to someone who understands your specific needs and can deliver the solution you have been looking for.
NODA Insurance is part of the Lloyd & Whyte Group which has roots dating back to 1946 when the business was founded as provincial Insurance Broker.
Proudly part of the Benefact Group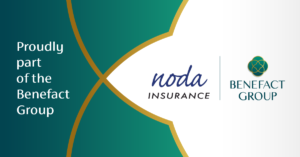 We are proud to be part of the Benefact Group – a charity owned, international family of financial services companies that give all available profits to charity and good causes.
We're built on the idea that better business, can better lives.
Each business in our group is a specialist in its field. We're united by a shared ambition to have a lasting positive impact on the communities we support, which has made us the fourth largest corporate donor in the UK1.
Find out more on the Benefact Group website.